Welcome to the exciting Service Contracts we're offering!

Contact us for a service agreement on your vehicle -- Even If You Didn't Buy It From Us!
 An
Extended Service Contract
(commonly known as an extended warranty*) is
an extra layer of protection for one of your most
important
assets: Your Vehicle.
These are designed to extend well beyond the initial factory warranty period;
and provide an ongoing benefit to you and your
family
. Our goal is to provide
lasting
VALUE
to you and your family. Your plan can have as much or as
little coverage you need. These are tailored to suit
your
needs; and provide
peace of mind
going forward.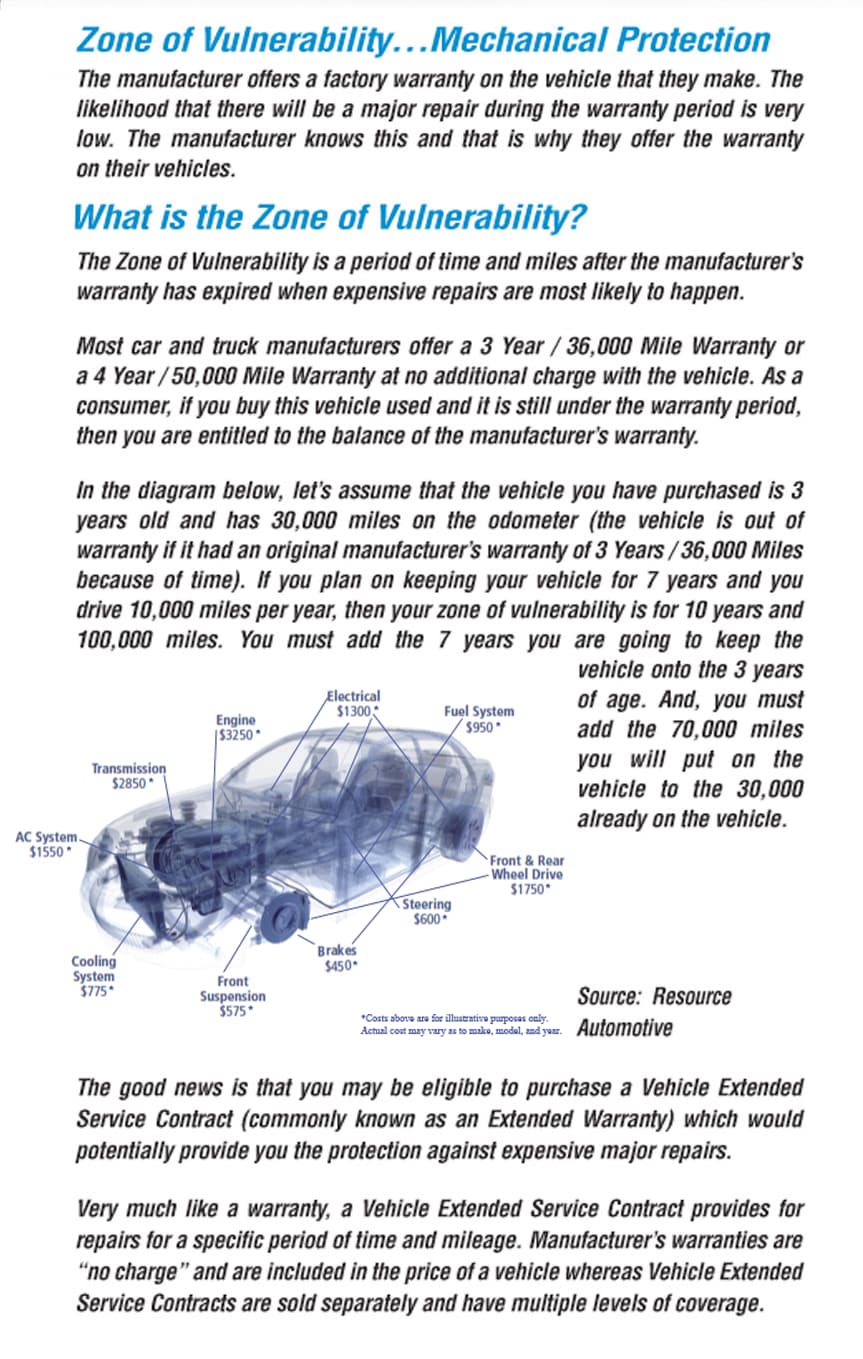 Please review the information contained below.
Call us for all the details; and if you have any questions.
Murad Fa
Finance Manager
Chrysler Dodge Jeep Ram of Gadsden 
1149 1st Ave 
Gadsden, AL 35901  
256-543-9583 






Our Service Contracts are tailored to fit Your needs.
-Engine                                                      -Transmission
-Steering                                                    -Anti-Lock Brakes    
-Front Suspension                                     -Rear Suspension
-Instrument Displays                                  -Low Fuel, Oil, And Coolant Sensors
-Front Wheel Drive                                     -Rear Wheel Drive          
-Seals And Gaskets                                   -Constant Velocity Joints
-Heater-A/C Blower Motor                          -Electrical    
-Temperature Sensor and Relay                -Air Conditioning
And Much Much More!
Every
Service Contract also comes with the following benefits:
-Towing Assistance                                    -Flat Tire Assistance
-Fuel, Oil, Fluid, And Water delivery.          -Lock Out Assistance
-Battery Assistance                                   -Rental Reimbursement
Also, Our Service Contracts now come with a
FREE
bonus Driver's Plus
Service Plan! This is just another way for us to
thank you
for your patronage!
If
you're
interested in getting started immediately, please send me the following information:
Full Name
Address
City,State,Zip
Telephone Number (preferred contact)
Make, model, Year, Mileage, and your VIN# (usually found in your paperwork and dashboard).

E-mail this to kennyburkes@cdjrofgadsden.com
Once your information has been entered into our database, we'll contact you via
e-mail or telephone to discuss your selected terms, plans and pricing.
Call in and get
covered
today!
Thank You, and have a pleasant evening!
Murad Fazal
Finance Manager
Chrysler Dodge Jeep Ram of Gadsden 
1149 1st Ave 
Gadsden, AL 35901  
256-543-9583 




*Our service contracts are a service agreement to supplement the cost of repairs
and are in no way associated with the original manufacturer.